Taiwan legalizes same-sex marriage, love wins!
Last Friday(2019, May 17th ), lawmakers in Taiwan's Legislative Yuan passed a bill making same-sex marriage a reality.
Taiwan becomes the first country in Asia, and 27th in the world, to legalize same-sex marriage.
The new law will take effect May 24th, allowing two people of the same gender, aged 18 or older, to register for marriage.

" On May 17th, 2019 in #Taiwan, #LoveWon.
We took a big step towards true equality, and made Taiwan a better country." Taiwan's president Tsai Ing-wen tweeted ahead of the vote.
I am so glad and proud of same-sex marriage becoming legal in Taiwan.
It shows how progressive Taiwan is. and how we are defending everybody's human rights.
We are taking a step towards a better world.
It's an achievement that Taiwan can be so progressive today.
I strongly believe that everybody has the right to love who you want.
Everyone is equal and deserves to be equal.
Everyone should be able to grant marriage rights equally.
Love is love; love wins!
=====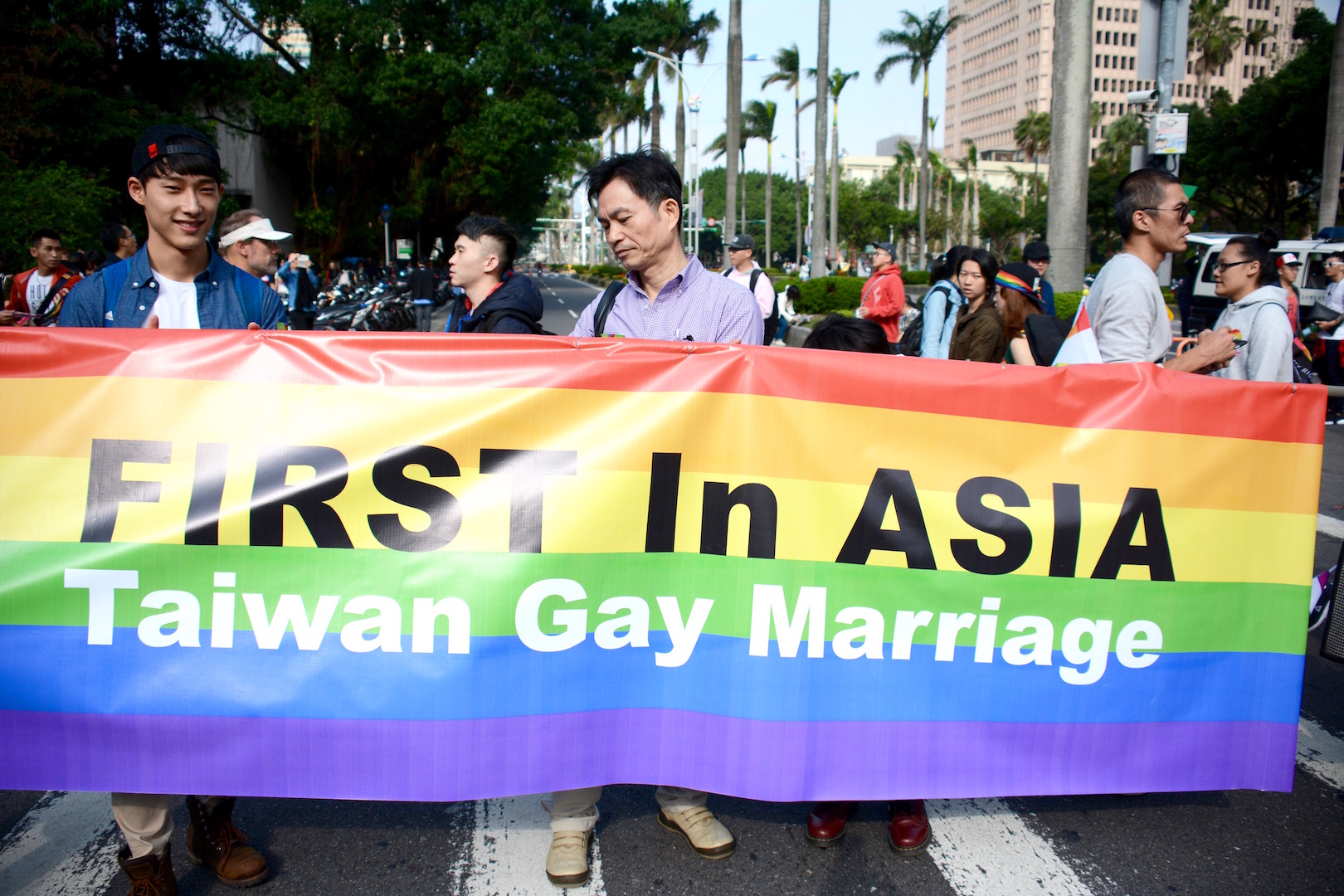 台湾で同性婚認める法案を可決、愛が勝った
先週の金曜日(2019年5月17日)、台湾立法院[りっぽういん](日本の国会に相当[そうとう])は、同性婚[どうせいこん]を認める法案を可決[かけつ]しました
同性婚が法制化[ほうせいか] されるのはアジアで初めて、世界で27カ国目となります。
5月24日から、18歳以上の同性カップルは今後、男女カップルと同様に、行政機関[ぎょうせい きかん]で婚姻関係[こんいんかんけい]の登録[とうろく]が認められます。
蔡総統[さいそうとう]はツイッターで、「2019年5月17日、台湾では愛が勝った。私たちは真の平等に向かって大きな一歩を踏み出し、台湾をより良い国にした」と述べた。
この法案が可決されたことをとても嬉しく、誇りに思います。
このことは、台湾が先進的な社会であることを示しています。
また台湾では、人権を守るために私たちはたくさん努力してきました。
より良い 社会に向けて大きな一歩を踏み出しました。
この成果は台湾にとって重要なマイルストーンだと思います
好きな人を愛する権利は誰にでもあると信じています。
人間は平等であり、平等に扱われるべきです。
誰もが平等に婚姻制度を利用できるべきです。
愛は愛なのです。愛が勝ちました!
=========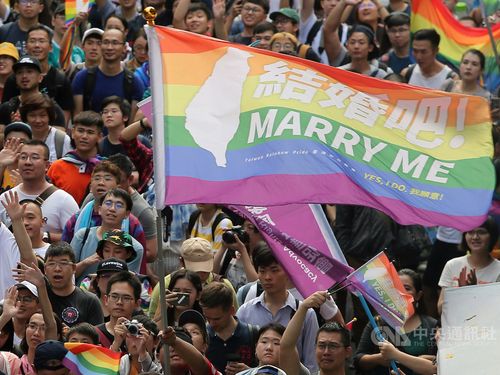 Taiwan legalizes same-sex marriage, love wins!
台湾で同性婚認める法案を可決、愛が勝った
台灣通過了同性婚姻法案,愛勝利了!
Last Friday(2019, May 17th ), lawmakers in Taiwan's Legislative Yuan passed a bill making same-sex marriage a reality.
先週の金曜日(2019年5月17日)、台湾立法院[りっぽういん](日本の国会に相当[そうとう])は、同性婚[どうせいこん]を認める法案を可決(かけつ)しました
上個星期五(2019年5月17日),台灣的立法院通過了「同性婚姻法」。
Taiwan becomes the first country in Asia, and 27th in the world, to legalize same-sex marriage.
同性婚が法制化[ほうせいか] されるのはアジアで初めて、世界で27カ国目となります。
台灣成為亞洲第一個、世界第27個通過同性婚姻法的國家。
The new law will take effect May 24th, allowing two people of the same gender, aged 18 or older, to register for marriage.
5月24日から、18歳以上の同性カップルは今後、男女カップルと同様に、行政機関[ぎょうせい きかん]で婚姻関係[こんいんかんけい]の登録[とうろく]が認められます
5月24日起,年滿18歲的同性伴侶可依法登記結婚。
" Today, we have a chance to make history & show the world that progressive values can take root in an East Asian society," Taiwan's president Tsai Ing-wen tweeted ahead of the vote.
蔡総統[さいそうとう]はツイッターで、「2019年5月17日、台湾では愛が勝った。私たちは真の平等に向かって大きな一歩を踏み出し、台湾をより良い国にした」と述べた。
蔡英文總統在推特中表示:「今天(5月17日)我們有機會創造歷史,向世界展現出進步的價值觀可以在東亞社會根基。今天,我們可以向世界展示愛會勝利(#LoveWins)。」
I am so glad and proud of same-sex marriage becoming legal in Taiwan.
この法案が可決されたことをとても嬉しく、誇りに思います。
這項法案的通過,讓我感到很高興,也很驕傲。
It shows how progressive Taiwan is.
このことは、台湾が先進的な社会であることを示しています。
它象徵了台灣是十分開明的國家。
and how we are defending everybody's human rights.
また台湾では、人権を守るために私たちはたくさん努力してきました。
以及我們為了維護人權而做出多大的努力。
We are taking a step towards a better world.
より良い 社会に向けて大きな一歩を踏み出しました。
我們向更好的世界邁進了一步。
It's an achievement that Taiwan can be so progressive today.
この成果は台湾にとって重要なマイルストーンだと思います。
台灣能走在如此前面,我覺得是一個重要的里程碑
I strongly believe that everybody has the right to love who you want.
好きな人を愛する権利は誰にでもあると信じています。
我深信每個人都有權利愛自己想愛的人。
Everyone is equal and deserves to be equal.
人間は平等であり、平等に扱われるべきです。
每個人都是平等的,都應該被平等對待。
Everyone should be able to grant marriage rights equally.
誰もが平等に婚姻制度を利用できるべきです。
任何人都有平等享用婚姻制度的權利。
Love is love; love wins!
愛は愛なのです。愛が勝ちました!
=============
認可同性婚姻的國家:共27個,包含尚未全區域執行的英國與墨西哥:
阿根廷、澳洲、奧地利、 比利時、巴西、加拿大、哥倫比亞、丹麥、芬蘭、法國、德國、冰島、愛爾蘭、盧森堡、馬爾他、墨西哥、荷蘭、紐西蘭、挪威、葡萄牙、南非、西班牙、瑞典、中華民國(台灣)、英國、美國及烏拉圭。
https://zh.wikipedia.org/wiki/%E5%90%8C%E6%80%A7%E5%A9%9A%E5%A7%BB#cite_note-Netherlands-2